Vanakkam makkale! Remember when you used to go to the theatres every other week and watch movies especially for Vadivelu comedy? 
We're a generation that grew up watching the Vaigai Puyal light up the screen with his talent, crack us up with his unique style as he talked, danced and sang his way into people's hearts. He stole away our hearts with his brilliant acting in movies like Friends, Chandramuki, Imsai Arasan 23 M Pulikesi, Pokkiri, etc.
He is a man of versatility and brilliant talents including folk songs, body language, expressions without whom our lives wouldn't be as fun and humour filled. He is the King of meme material, ruling all social media talks related to Tamil movies.
The idea of BGMs for a comedian first came into existence for Vadivelu movies, hand picked and tailored to highlight the actor's style. Vadivelu once again brought to light the value and importance of body language in comedy, while the comedy industry had forgotten all about it. He makes comedy not just with his words, but with his entire body! His style of comedy gained him love and admiration from millions of movie fans. 
No comedian or even actor ever had such an influence in the public's day to day life, nor had his/her dialogues and slangs incorporated into everyday conversations. He is the God of the Tamil meme community, whom look up to him with devotion and deep admiration. His service to the Kollywood industry for 33 years cannot be made justice to with any number of words.So here is a list of 25 Vadivelu dialogues that can crack up anyone even without any audio, that shows the man's greatness! 
1. Aahaan?
2. Eppa!! Kelambiruchu pa, kelambiruchu pa!
3. Naanga adi vangatha area-ve kedayathu. 
4. Sothulayum adi vaangiyachu sethulayum adi vaangiyachu.
5. Vaaya moodra korangu 
6. Why blood? Same blood.
7. Vada pochey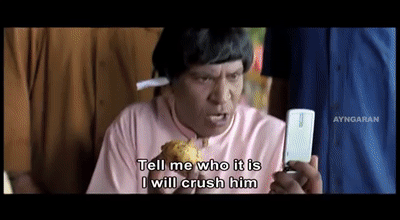 8. Pesikittu iruken mama..!
9. Build up panrano peela vidrano athu mukkiyam ila. Naama edhu pannalum intha olagam nammala odaney uthu pakanum. Naadhari thanam pannalum naasookka pananum.
10. Building strong-uh basement weak-uh!
11. Excuchse me? Antha korangu bomma enna vela? 
12. Feeling ah? Ena, ena feeling-uh?  
13. Entha oru vishayathayum plan pannama panna ippadi thaan. plan panni pannanum.. oh-kay? Listen to our Thalaivan and plan your 2021!
14. Hello.. naa varuthamilla vaalibar sanga thalaivar Kaipulla pesren. Yar pesarathu?
15. Maapla? Maapu? Vechutan da aapu!
16. Aahaa! Onnu kooditangayya, onnu kooditangayya!
17. Singggg in the rain.. I am sing in the rain..
18. Risk edukarthulaam enaku rusk sapdra mathri!
19. Hello! Dubai ah? Ennudaiyya brother Mark irukara? 
20. Venaa.. Valikuthu.. Aluthuruven! 
21. Sanda-naa satta kizhiyan dhan ya seiyum! Sandai-la kizhiyatha satta enga iruku? Nalla kekuraangaiyya deetial-uh.. 
22. Cool down.. cool down.. cool down!
23. Naa apdiye shock aaiten!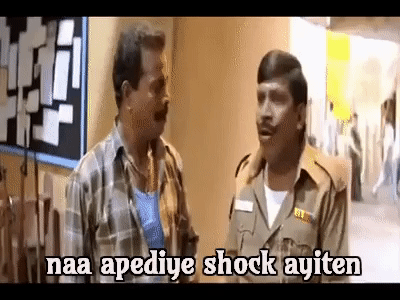 24. Hey you you you! I fool of the idiot of the ass!
25. Yei yei Mister! 
We would love to hear about your favourite Vaigai Puyal moment. See you in the comments!