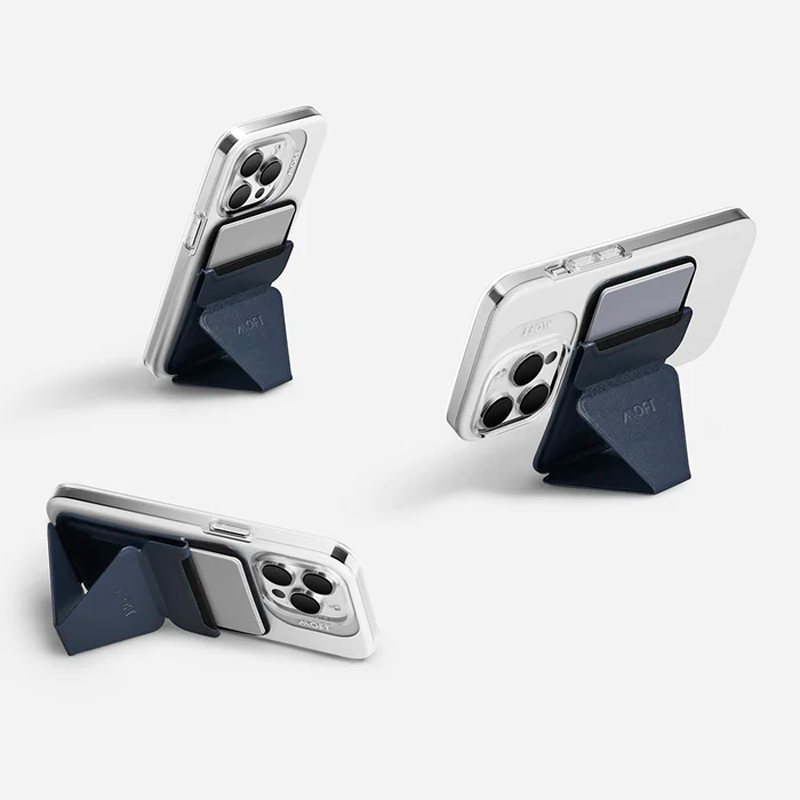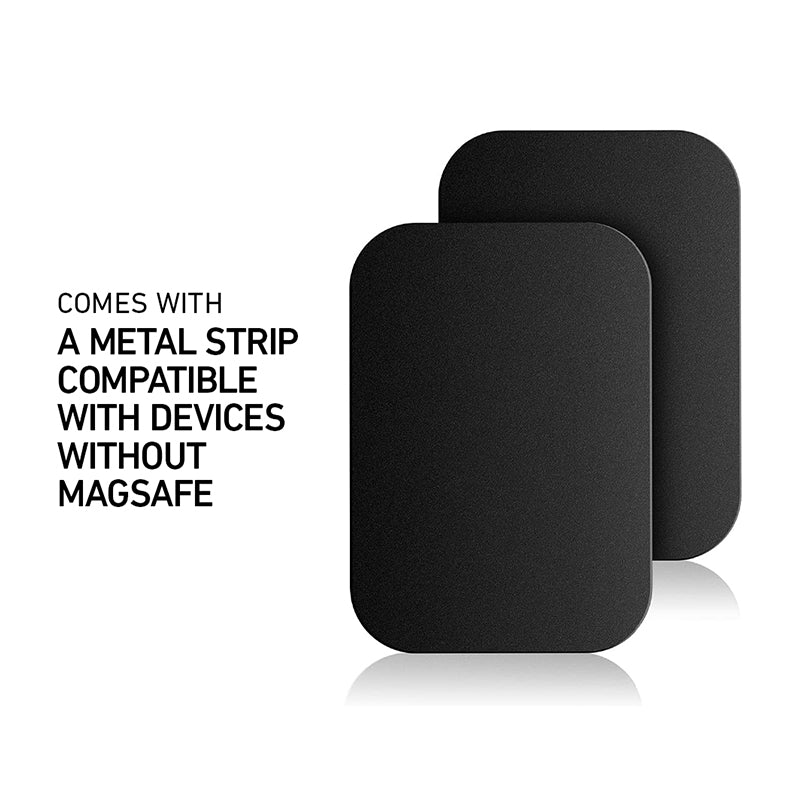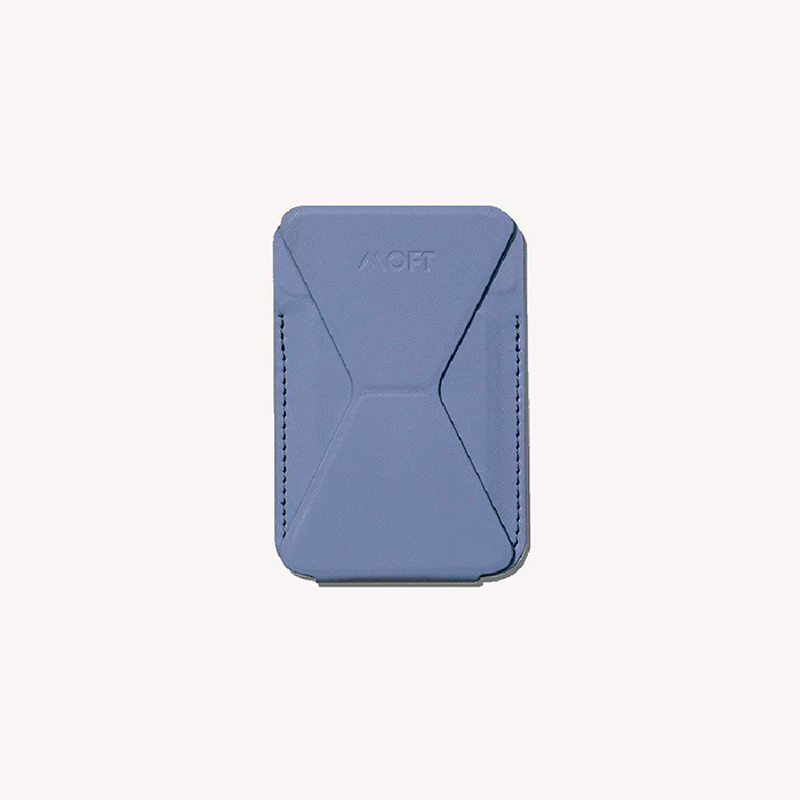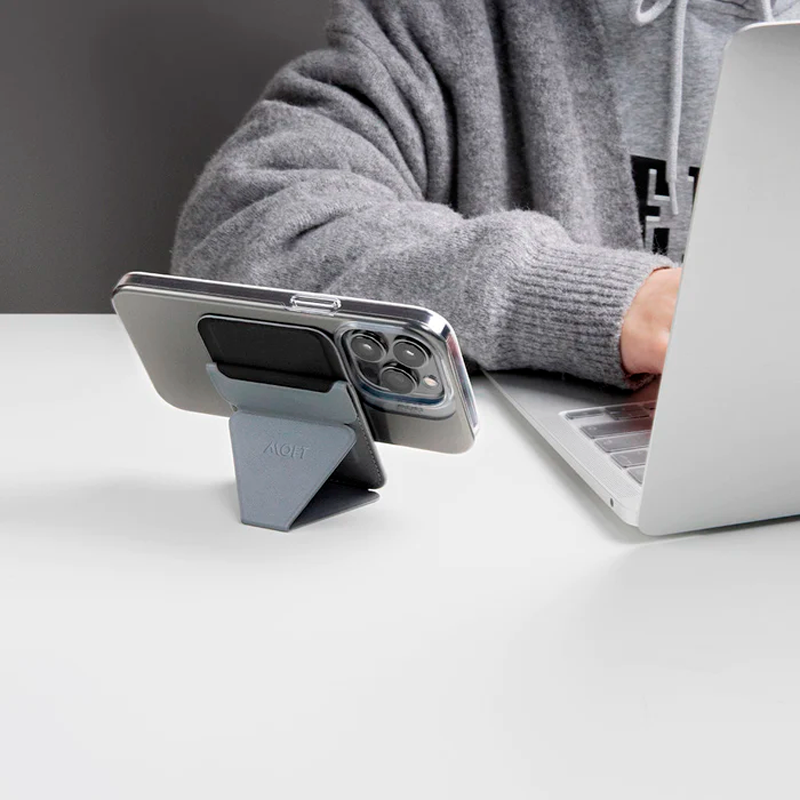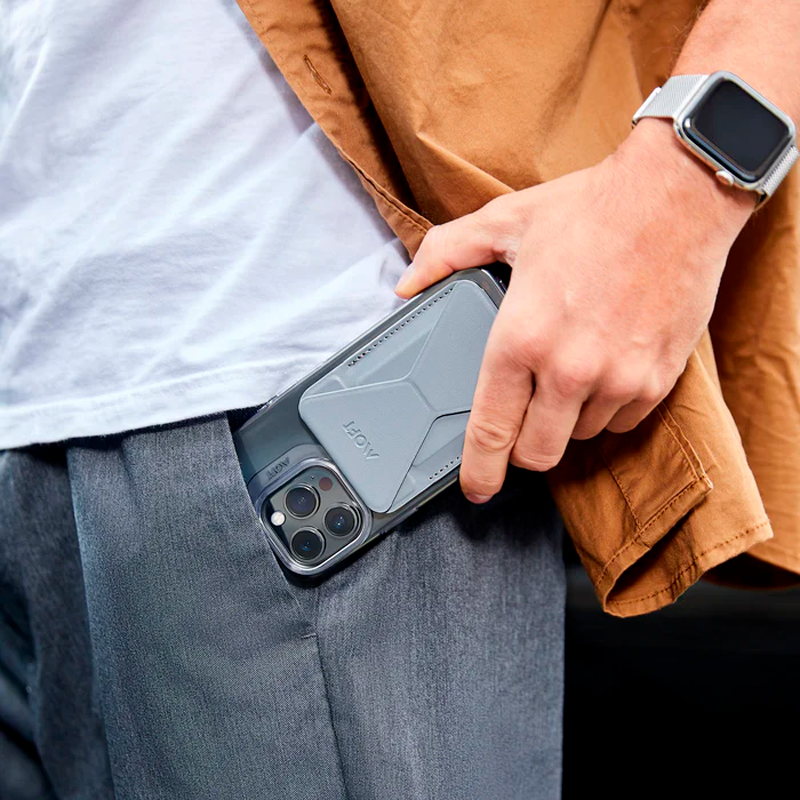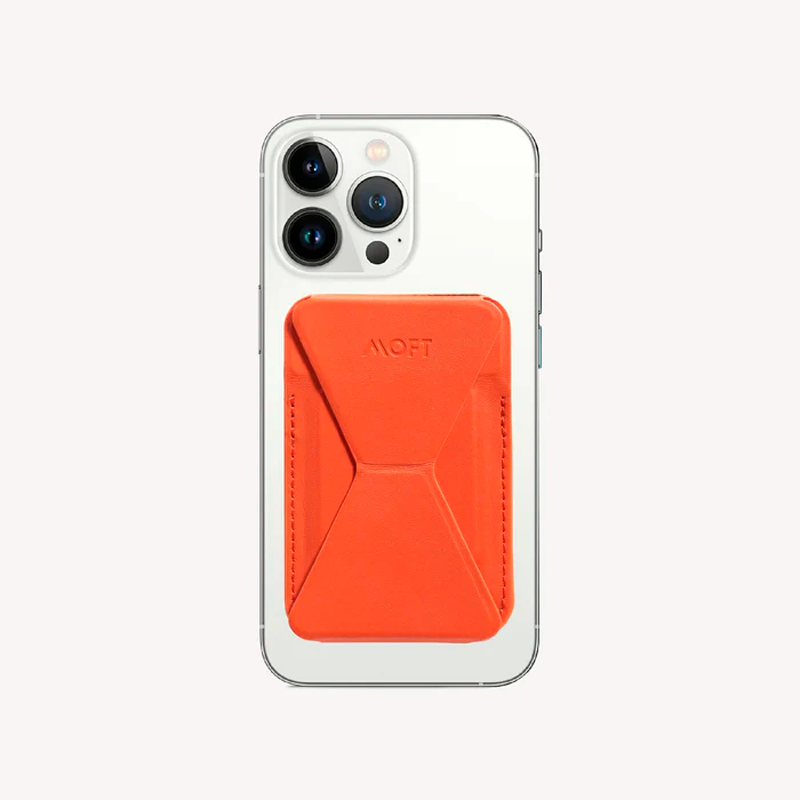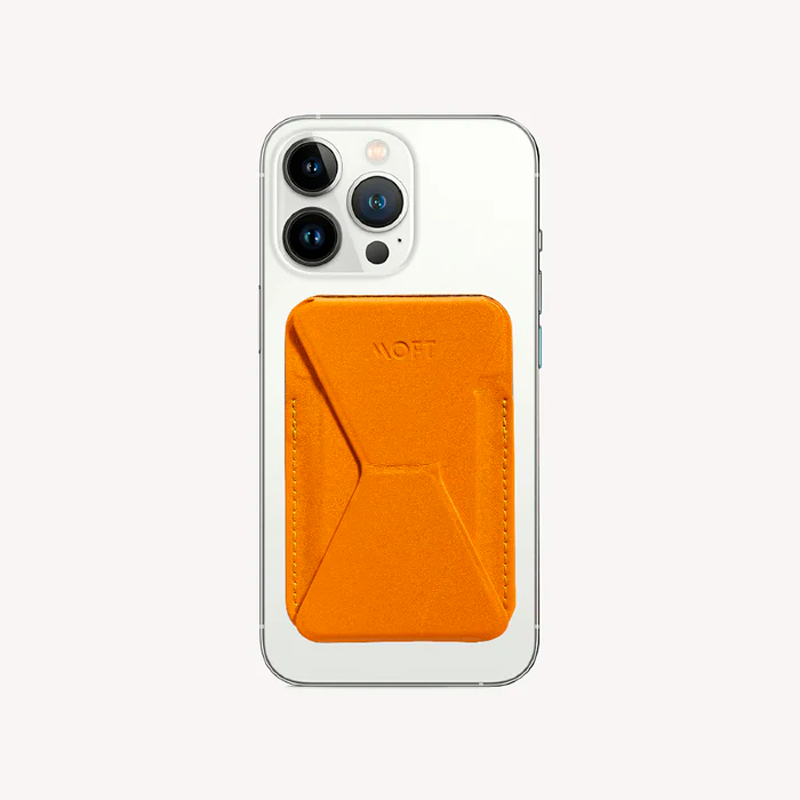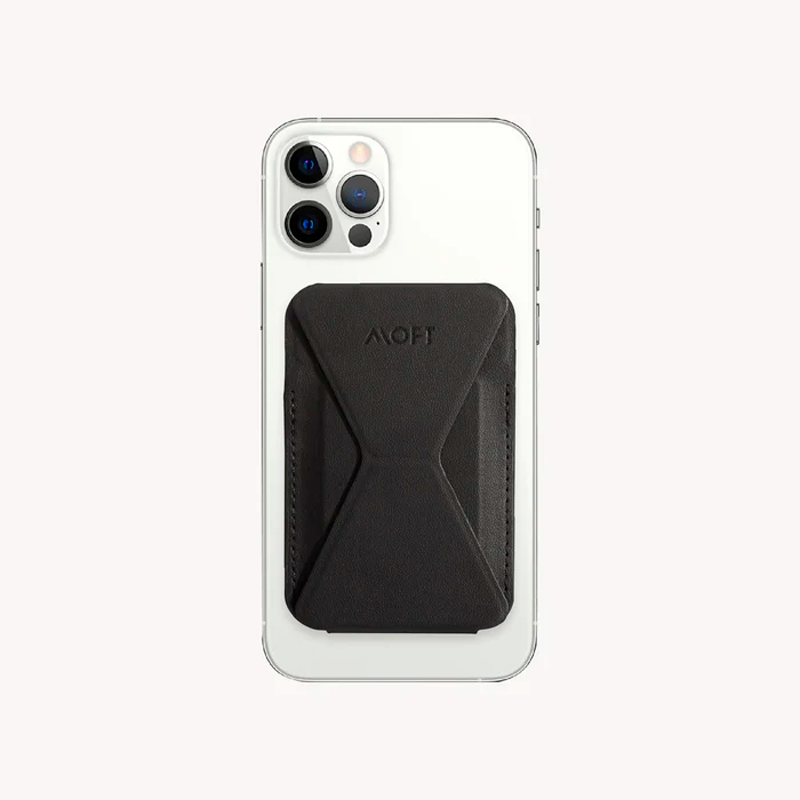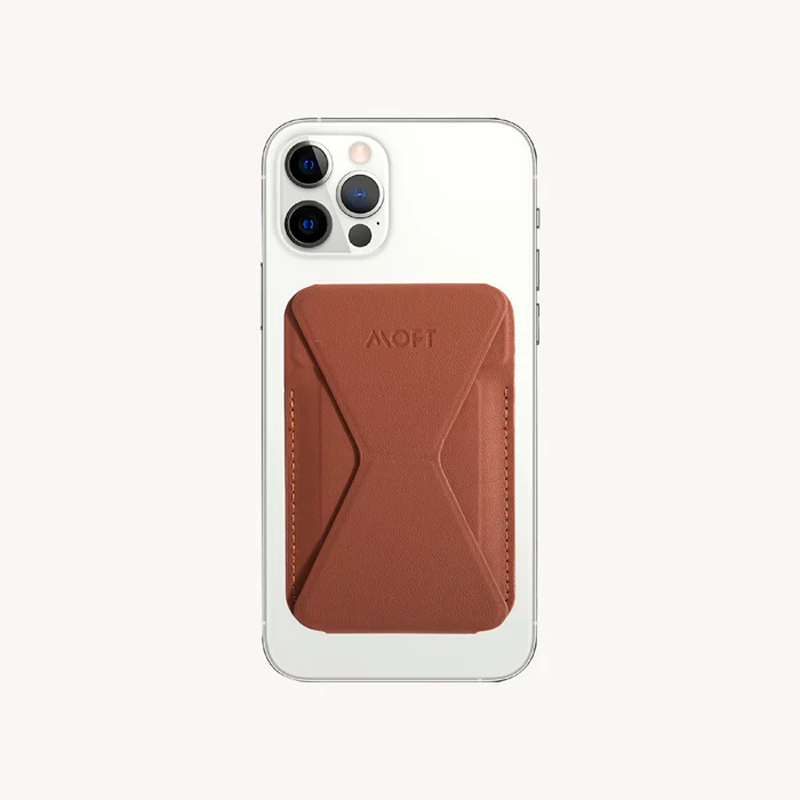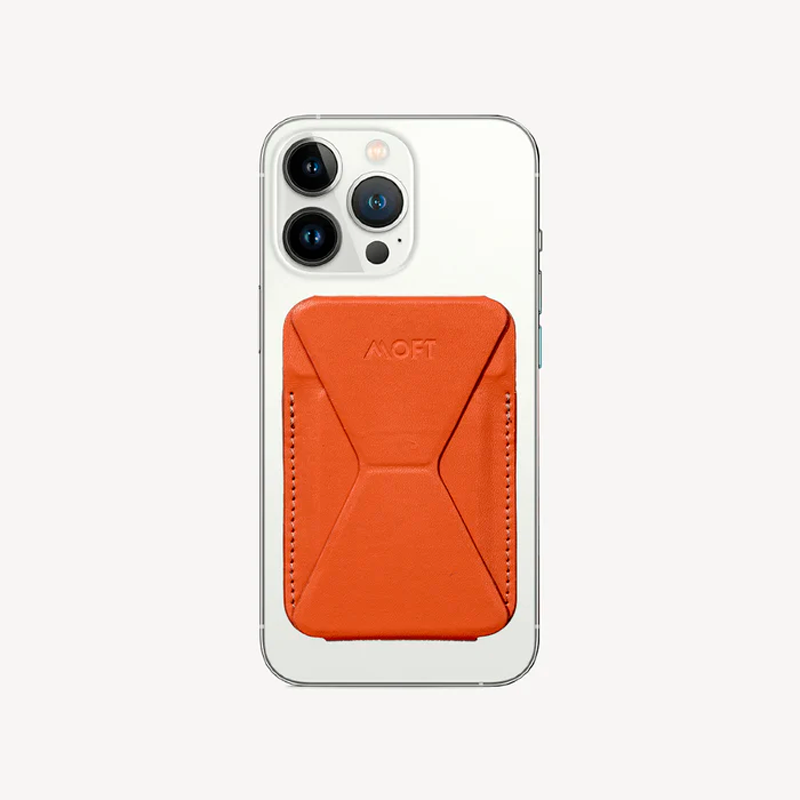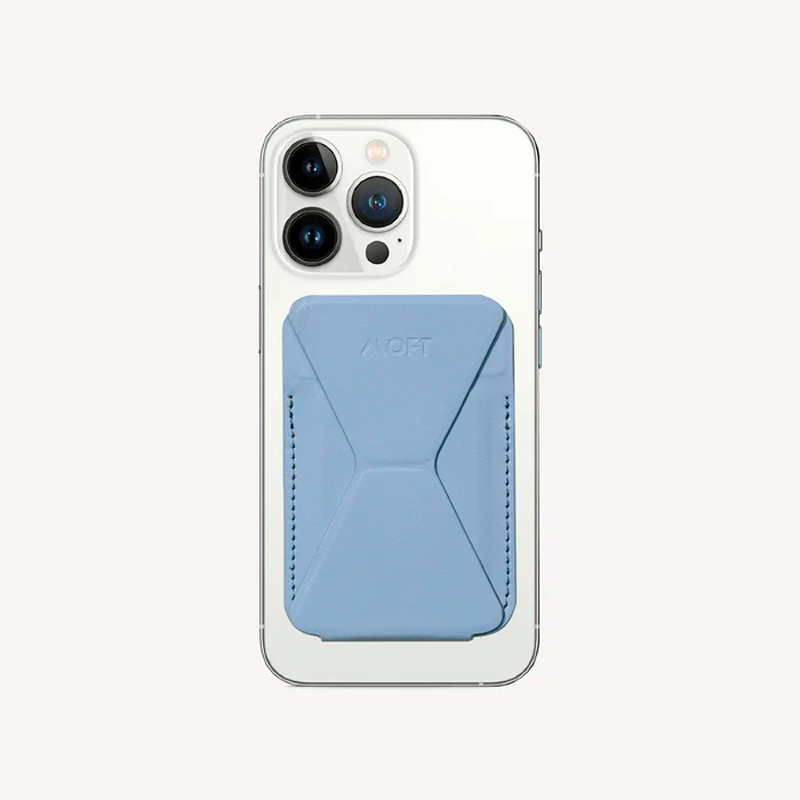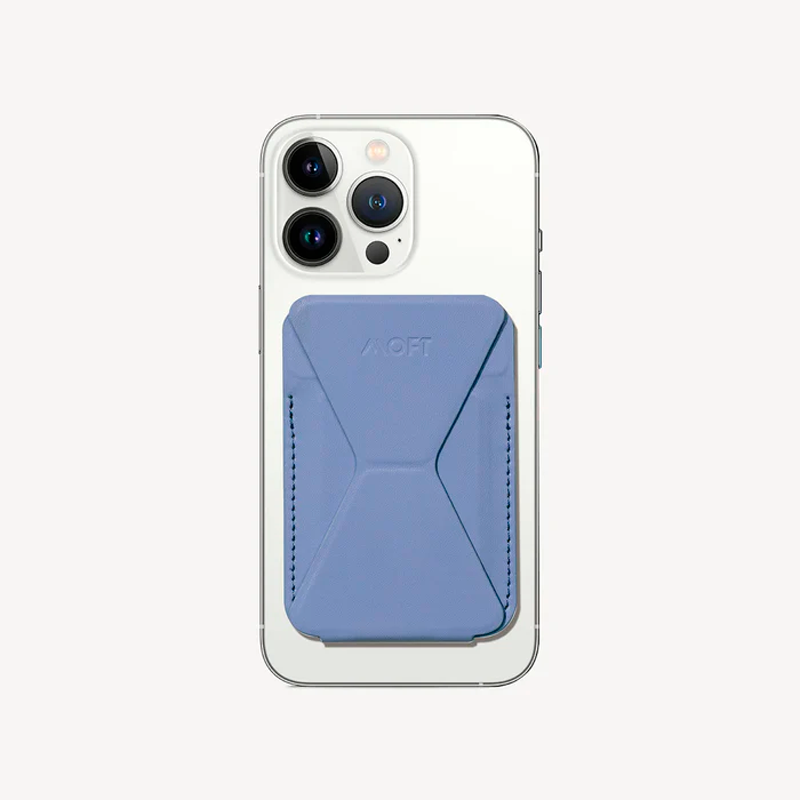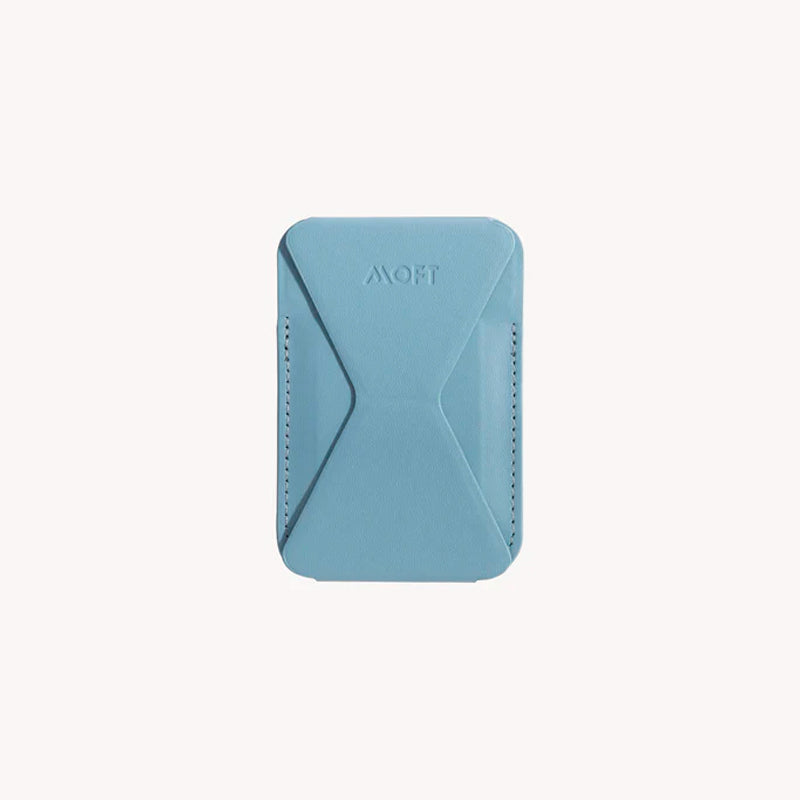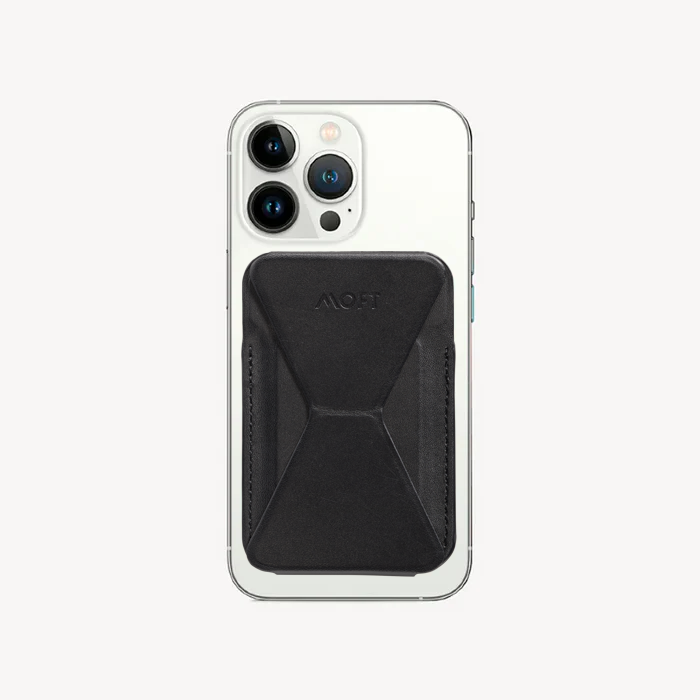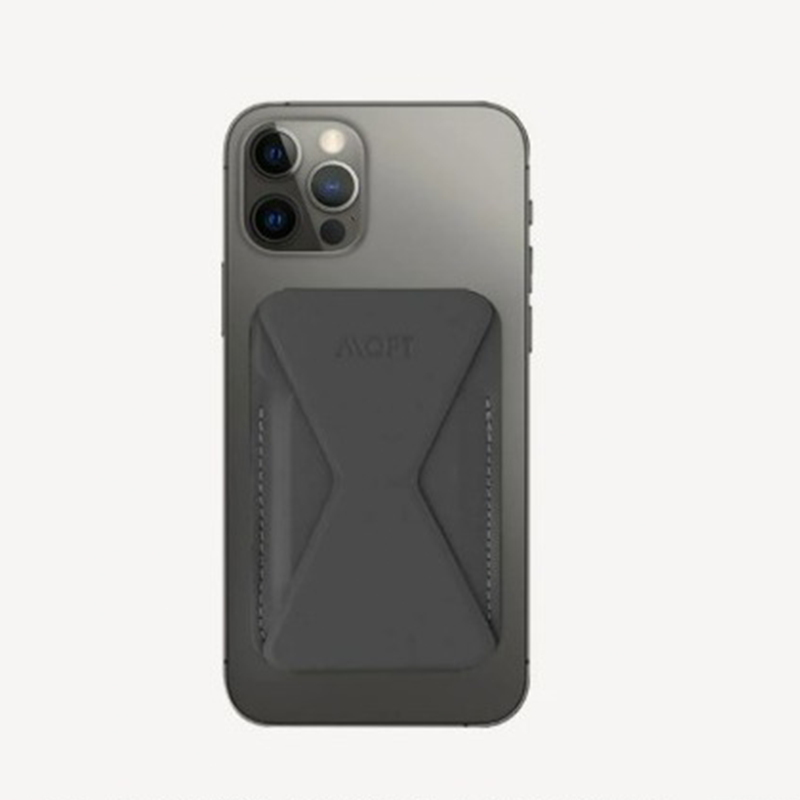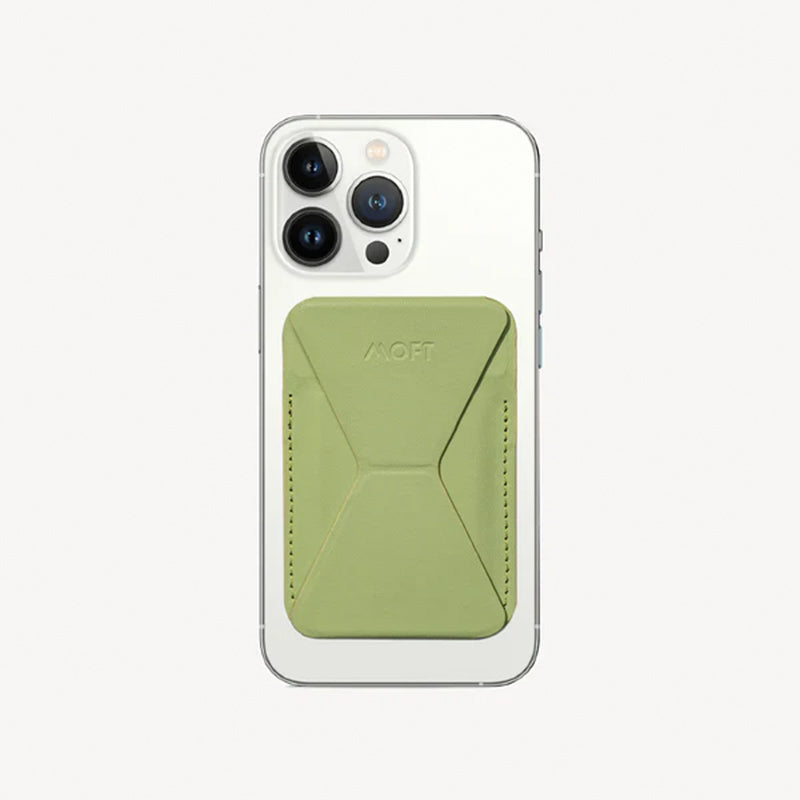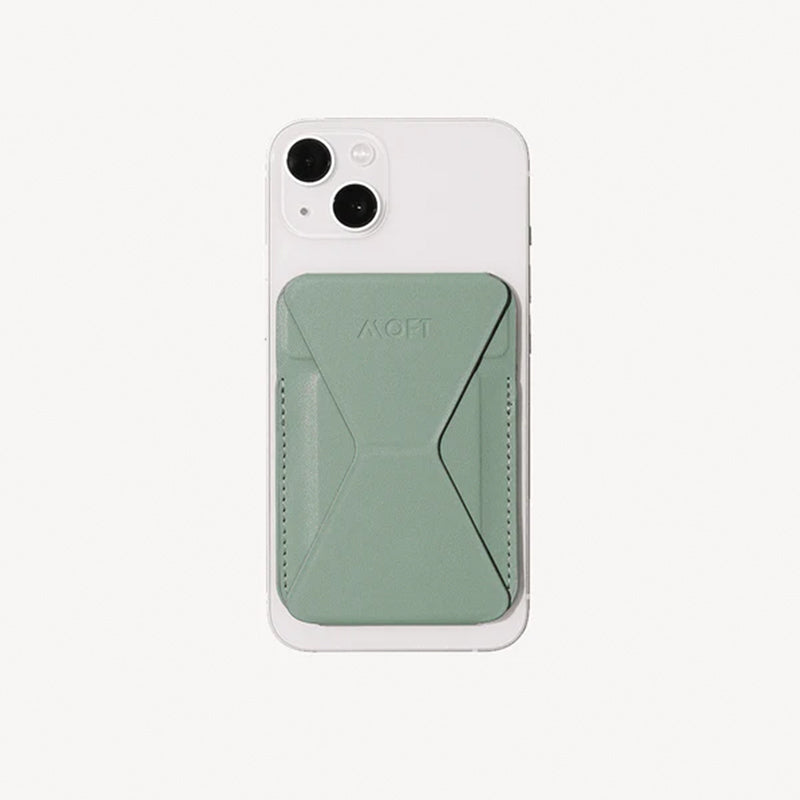 MOFT Snap-on Phone Stand & Wallet (Magsafe Compatible)-iPhone 12/13/14/15 series
---
Buy Any 2 MOFT Products Get Rs.500 Off (No Coupon Needed)
This product will get shipped 📦 within 48 hours.
MOFT Snap-on Phone Stand & Wallet (MagSafe Compatible):

Original invisible phone stand & wallet offers maximum productivity and comfort with a minimalist design. (Magnetic to switch with other accessories.)

At 0.2 in thin, 1.5 oz weight. Unfelt and unseen when carried. 
Floating, Portrait, and Landscape modes.
Holds up to 3 cards.
Compatible Model: iPhone 12/13/14/15 series (iPhone 12/13/14/15, iPhone 14 Plus, iPhone 12/13/14 Pro/15 Series, iPhone 12/13/14 Pro Max) and MagSafe compatible phone cases.
7 days no questions asked return policy. Ensure the product is in mint condition and the sticker remains intact. If the product is used, we will not be able to take it back.

For further questions, Please contact us.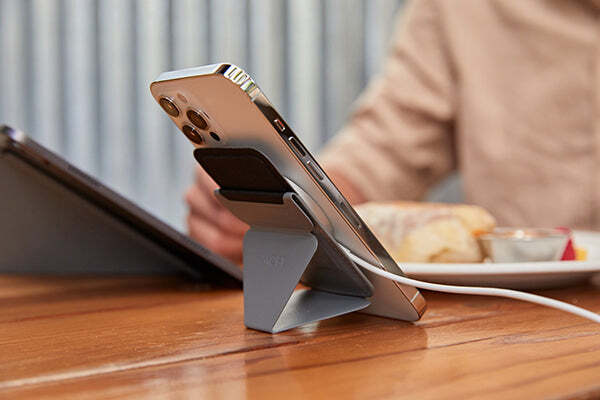 Wallet, Stand, and Grip
The MOFT Snap-On employs dual magnets to attach securely to the latest iPhones. The precise fold design allows for intuitive and flexible use - simply snap it on, stand it up and fold it back into place. A powerful companion to your digital life.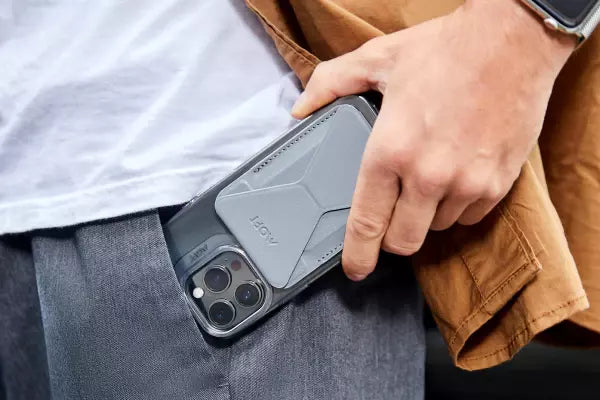 Premium Materials in Classic Colors
The soft vegan leather not only feels smooth to the touch, but is also eco-friendly. At half the cost of most phone wallets, it's the most accessible and ideal way to interact with your phone.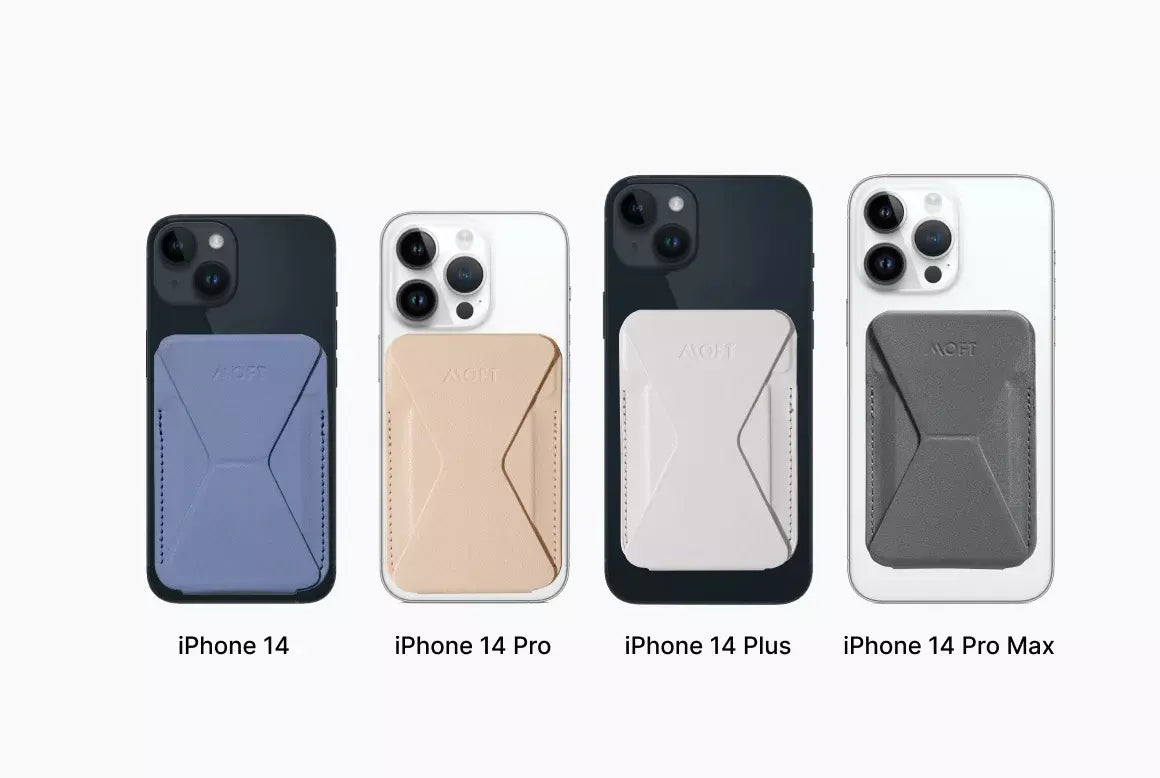 MagSafe Compatible for iPhones 15/14/13/12
FAQ
Frequently asked questions for MOFT Snap-on Phone Stand & Wallet (Magsafe Compatible)-iPhone 12/13/14/15 series
What iPhone and Android models are compatible?

All iPhone 12/13/14/15 series are compatible as they have MagSafe.

For other iPhones and Android devices, We give a free metal plate which can be used to make the product compatible.
Will it work if I have a case on my phone?

Yes! It works with Apple's MagSafe cases, and the magnet strength will be 2x stronger with our Snap Case, as their magnet layouts are consistent (a ring of magnets and a longitudinal magnet). For third-party MagSafe compatible cases, only cases that have built-in magnets will work. Please note it doesn't work with non-MagSafe phone cases.
Compared with Apple's wallet, how's the magnet strength?

The magnet strength feels the same as Apple's wallet, because we use similar magnet design to match the iPhone 12/13/14 and 15 series. You will need force to remove the wallet, and it doesn't fall easily. Still, we recommend not to use it as a grip without holding the phone's edge.
Can it be used as a grip?

Sure. It's secure to hold to view the screen for a comfortable browsing experience, but it will not be as secure as the MOFT X adhesive phone stand, so it's suggested that you should not shake it to avoid the risk that the phone will come off from the wallet.

Can the wireless charging feature be used with this?

No, it can't be used with wireless charger. But detachment is easy, so you can remove it for wireless charging.
Does it have RFID-blocking technology?
Does it affect Apple Pay usage?

Apple Pay works normally.
Can I attach my phone to the wall?

You can stick it anywhere with the metal plate which comes along with the product for free. You can also buy the MOFT Magnetic Wall Sticker to use it anywhere.
Our customer support is available from Monday to Friday: 10am-5:30pm.
Average answer time: 24h
Chat on Whatsapp
This product is rated 4.9 of 5.0 stars.
It has received 7 reviews.
A must accessory for your workspace
very handy and takes up very little space so that I can carry it anywhere. Not only it is helpful while I am working from home but it really helps while I am giving my presentations in the office. A must to be added product.
Great Accessory for Laptop
Sleek and Compact. Really a lifesaver for my wrist pain and literally takes no storage space. Highly recommended